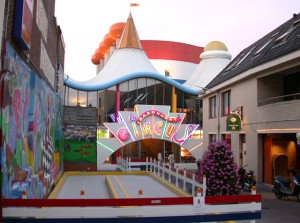 Zandvoort Circus entertainment complex  is to be found in the heart of Zandvoort village and was built in 1986. It consists of a large amusement hall with many of the latest electronic games providing entertainment for children and adults of all ages. Prizes may also be won.
On the top floor of the building is a quite luxurious cinema and theatre complex and here you can see the latest films every day. Once a month there is a cabaret or stand-up comedy presentation for added entertainment.
A lot of the films on offer are in the English language  and sometimes they are subtitled. If you want to know what's on at any given time then it's best to take a look at the dedicated Cinema and Theatre web site.




Circus Zandvoort Casino
In the Circus Zandvoort Casino, 220 of the best and the latest casino games can be played. People aged 18 and above can enjoy themselves on what might best be described as four 'floating' islands at the roulette, poker and blackjack tables. There is also a chance to win the Mega-Jackpot which is limited to a maximum of €2,500.
Famous Fruit Machines
If you're a fan of "fruit machines" then here you will find on offer some of the classics i.e. Oldtimer, Topspinner, Twintimer, Steptimer and Hot Shots. There are also some of the latest and most advanced new machines in a luxurious casino setting. Some of these machines allow several people to play at the same time.




Entertainment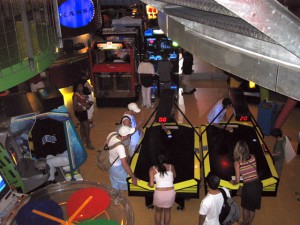 A visit to the casino at Zandvoort Circus can also provide other forms of great entertainment. On the last Saturday of every month there is entertainment labelled: 'Saturday Night Fever', which on various nights features amongst other things, Wheel of Fortune, Quickie Bingo' from Las Vegas,  Deal or No Deal and PokerParty. at other times you will also find other forms of live entertainment provided by musicians, magicians and others.
Zandvoort Circus may be accessed either from the Kerkstraat or via the back entrance in the Gasthuisplein.