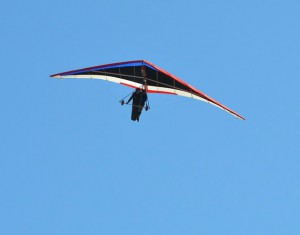 In the early days of hang gliding, hang gliders were the original free flyers, simple wings developed from pioneering NASA technology of the 60s and 70s.
Modern hang glider pilots launch either from winches, behind microlights or from hills, enjoying long flights over great distances. Hang gliders climb better, can fly faster, and probably have the best glide characteristics of all free flight disciplines.



What is Hang Gliding
Hang gliding is an air based sport in which the pilot flies a light, non-motorized craft called a hang glider which is launched by manpower. Nowadays,  hang gliders utilise the latest technological designs and are generally made of an aluminium alloy or composite frame covered with synthetic sailcloth forming a wing. The pilot is fastened into a harness suspended from the airframe, and manages to control the craft by shifting body weight in opposition to a control frame.
In the early days of the sport, pilots were restricted being limited to gliding down small hills due to hang gliders being of a lower quality with a low lift-to-drag ratio but in the 1980s, this ratio significantly improved and accordingly since then, it's possible for a pilot to soar for hours and rise up thousands of metres in altitude riding thermal updraughts. Experienced pilots can even perform aerobatics but it obviously it is highly recommended that anyone wanting to go hang gliding has expert tuition. More about the history



Hang Gliding in Zandvoort
With its regular and fairly constant coastal sea breezes, for which it has long been well known, Zandvoort is an excellent place to practice the demanding but thrilling sport of hang gliding and in the summer, many holidaymakers on Zandvoort beach in the summer or autumn will be treated to a display of this exhilarating sport.