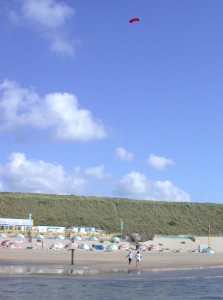 The Zandvoort weather forecast is an everyday topic of conversation amongst both the local people and visitors to the resort and that's because it affects many activities.
A warm and sunny Zandvoort is great for people to enjoy Zandvoort beach and that's when lots of day trippers visit the resort. The result of this for Zandvoort itself is that the town's traders enjoy good business (shops, restaurants, bars, fish stalls and beach cafes).
It's only on 'good weather' beach days that you'll also get to see planes flying over the beach with huge banner advertisements high up in the sky. Warm, sunny weather in Zandvoort is also good for activities away from the beach – such as cycling or walking in the dunes and even hang gliding.




Zandvoort Weather and Events
Good weather can make the difference between success and failure where special events are concerned. Each year in Zandvoort there are a number of large scale events which take place – such as the Jazz on the Beach music festival in the summer and various international racing events at the Circuit Zandvoort Race Track. If conditions are really good when these events are staged, there can be queues of traffic for many kilometres coming into Zandvoort!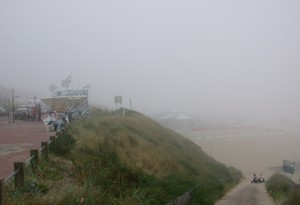 Windy conditions in Zandvoort (with sun or rain) tend to keep day trippers away, yet the beach can still be quite busy because such conditions are ideal for water sports – sailing, windsurfing and kitesurfing or even kite flying. Sometimes, Sea mists can come ashore very quickly making a great atmosphere. (Photo right – sea mist on the Boulevard Paulus Loot and the beach)
This is why many people check the Zandvoort weather forecast regularly. Online reports and predictions about the weather in Zandvoort receive a lot of traffic and the more accurate the forecasts, the more people come back on a regular basis




One of the best weather forecasting websites in Dutch, used by both locals and day-trippers, is: De Meteopagina  This is owned and operated by Alexander Van Den Horn – an experienced local forecaster.