Like many Dutch towns and cities, the municipality of Zandvoort has its own coat of arms. It consists of three intersecting golden herrings on an azure blue shield, and it was granted by the Supreme Court of the Nobility on behalf of the King in 1816.
The first use of this particular emblem can be traced back as far as 1613 by the Bailiff and Aldermen of the village of Sandvoort or Santvoort or Sandevoerde.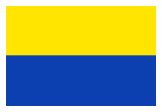 The herrings symbolize the importance of fishing as both the originator and livelihood of the then population. In those early days the village was a manor or seignory and belonged to the estates of the Lords of Brederode.
During French rule the rights of the Lords were largely done away with and the seignory of Zandvoort ceased to exist. It then became a municipality or community (gemeente) bearing the same coat of arms.




Zandvoort also has its own official community flag. The village council agreed to it at a meeting on 18th October 1949, and the flag consists of two stripes, one above the other, the upper being a gold-yellow colour and the lower azure-blue.