Zandvoort now has camping and caravan sites alongside the hotels and guest houses, and the resort still attracts a lot of Amsterdammers when the weather is fine. The majority of visitors are daytrippers, an idea which caught on during the 1960s as a result of increasing living standards. More money could be spent on recreation, and hot summer days would see a stream of visitors to the coast from the capital especially when the journey can be made in as little as a half an hour.
For these reasons, overcrowded trains and long queues heading for Zandvoort are a common sight during the summer. Most of these people head for the beach to take part in beach activities which can often go on into the early hours of the morning. These can either be private parties held at a beach club or pavilion or in the high season especially, musical events organised by the Zandvoort authorities.




It was inevitable that the daytripper-effect would have its repercussions in the kind of attractions that the resort put on offer: restaurants, fast-food outlets and ice cream parlours, amusement halls, clothes and gift shops – most now open the whole year round, including Sundays.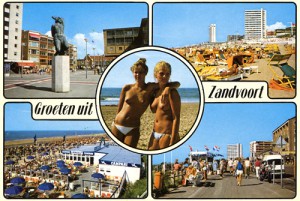 Read more about modern Zandvoort by following the links: